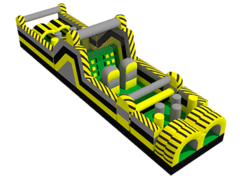 Nuclear Obstacle Course
$240.00
Dimensions: 40 x 18 x 13
Outlets: 01
Monitors:
40' NUCLEAR OBSTACLE COURSE
Description: This course is loaded with all kinds of fun. Competitors climb over walls, through inflatable blockades, into tubes and out to the end. This event is great for team building, competitive people or those who just want to have fun.
Features:
Dry Slide
Dual Lanes
Pop-ups
Tunnels