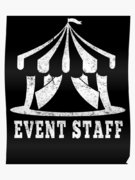 Event Staff
$45.00
Dimensions:
Outlets:
Monitors:
Staff labor / attendant is $45 an hour.
This is for someone that needs an attendant to watch over certain rentals for an event. Such as a bounce, games or for concessions..etc.
Please select from the quantity drop down box the total hours needed to staff the event or contact our office for help.