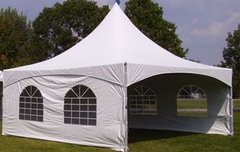 Side Walls Panel, For Tent 20 x 20
$25.00
Dimensions:
Outlets:
Monitors:
Add Sidewalls For an Enclosed Space
These tent side walls fit the 20 x 20 frame tent and can be added to your tent reservation. Walls include elegant arch windows with cross panel design.
Reserve your date now with a 50% deposit.
Note:
$25.00 each. Panel
if you want cover all the Tent arount you need (4) Panel Total.